Bowl for Kids' Sake
Bowl for Kids' Sake is an annual fundraiser taking place in most of the regions we serve throughout the month of April. This event is a peer-to-peer fundraiser in which participants take in-person pledges, or raise money using their team's webpage. When you sign up your team, you can customize how you want your webpage to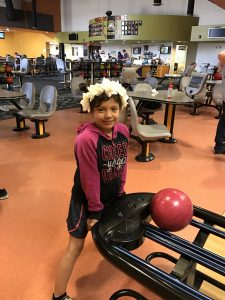 look or download donation forms to take around town. 
Teams of 5 raise a minimum of $100 each, or $500 per team (some teams are sponsored by businesses). Most bowlers raise in excess of $150. Teams raising $1,250 have received enough donations to support one match for a full year!
For Wii bowlers (in Taos and Colfax Counties), teams consist of only 4 bowlers, and the minimum per team is $400. 
Once the money is in hand, teams can celebrate with us at their local bowling event. 100% of the money you raise will stay to support matches in your own local community. The bowling event includes 2 hours of bowling, music and food, event t-shirt, contests and prize drawings, and a whole lot of fun!
For more information, contact your local Regional Director, or Director of Special Events Ron Ruybal at 505-395-2809 or email ron.ruybal@bbbsmountainregion.org